Office 365 Calendar Meeting Sync Between Organizations or Tenants
Managing meeting bookings and ensuring there are no scheduling conflicts can be a daunting task when employees in your organization have active work accounts across different Office 365 tenants. To address this challenge and simplify calendar management, SyncPenguin offers a reliable and efficient solution—a two-way synchronization that keeps calendars up-to-date with a seamless setup.
In this blog post, we will delve into the process of setting up this synchronization between two Office 365 tenants, accommodating one or multiple users. Please note that this setup requires admin access on both tenants and is considered more advanced compared to a simple sync between two calendars, which we have extensively detailed here.
Domain-wide access
If you want to be able to sync on behalf of your organization users (without each of them manually connecting their accounts) while keeping the setup process as simple as possible, we recommend using the domain-wide access sync option that we provide. The domain-wide access is achieved through Office 365 impersonation. This essentially means that you need to have a single, dedicated account (usually an admin account) on both tenants with the impersonation permission enabled that will be used by us to directly connect to other users in the organization.
You can learn more about how to configure an account with impersonation permission in this blog post.
Creating the sync
All SyncPenguin syncs are managed in our dashboard. If you don't have an account, feel free to sign up for a 14-day free trial.
The first step is to add a sync to the dashboard. For this, on the left menu, select the Synchronizations section and click the plus icon. Then, select Office 365 Calendar Meetings as both synced apps, the two-way sync direction, and also click on Use domain-wide access? and enable it for both synced apps, as shown below.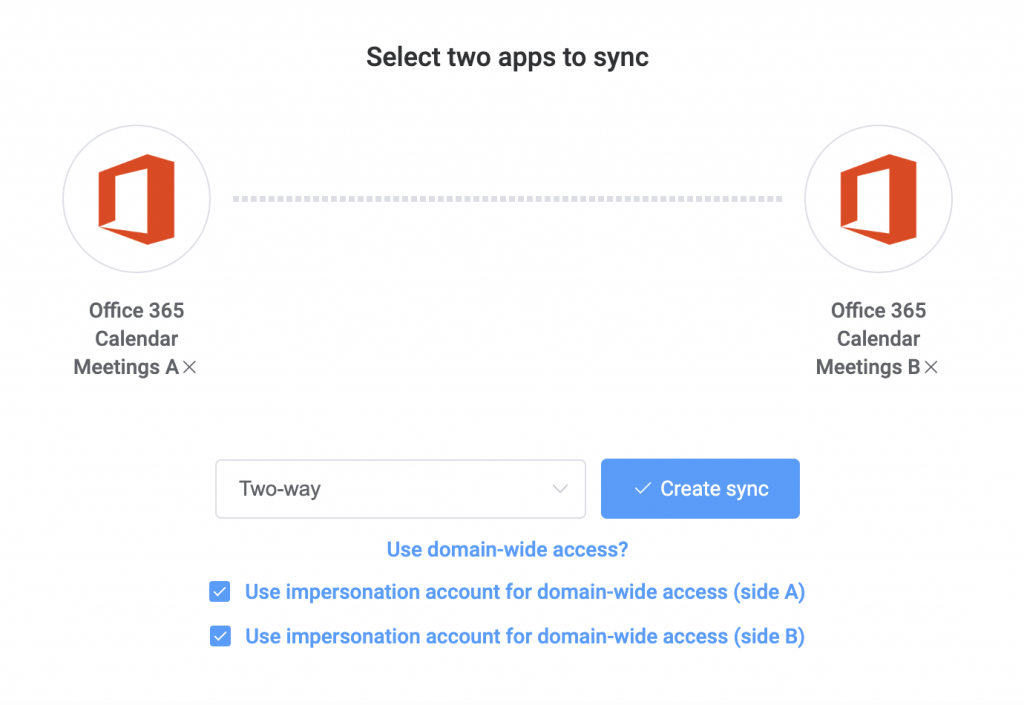 Connect impersonation accounts
Once you have the sync added, the next step is to connect accounts with impersonation permissions for both tenants. This is done in the Master sync profile section on top of the sync page. To connect an account, click on the corresponding row, click the Connect button and follow the authorization process.

Once the impersonation accounts are connected, you can start adding users to the sync.
Add users
To add a user, click the plus icon in the Individual sync profiles section of the sync page. You'll then need to provide a name (usually, the name of the user) followed by user emails in the two corresponding tenants, as shown below.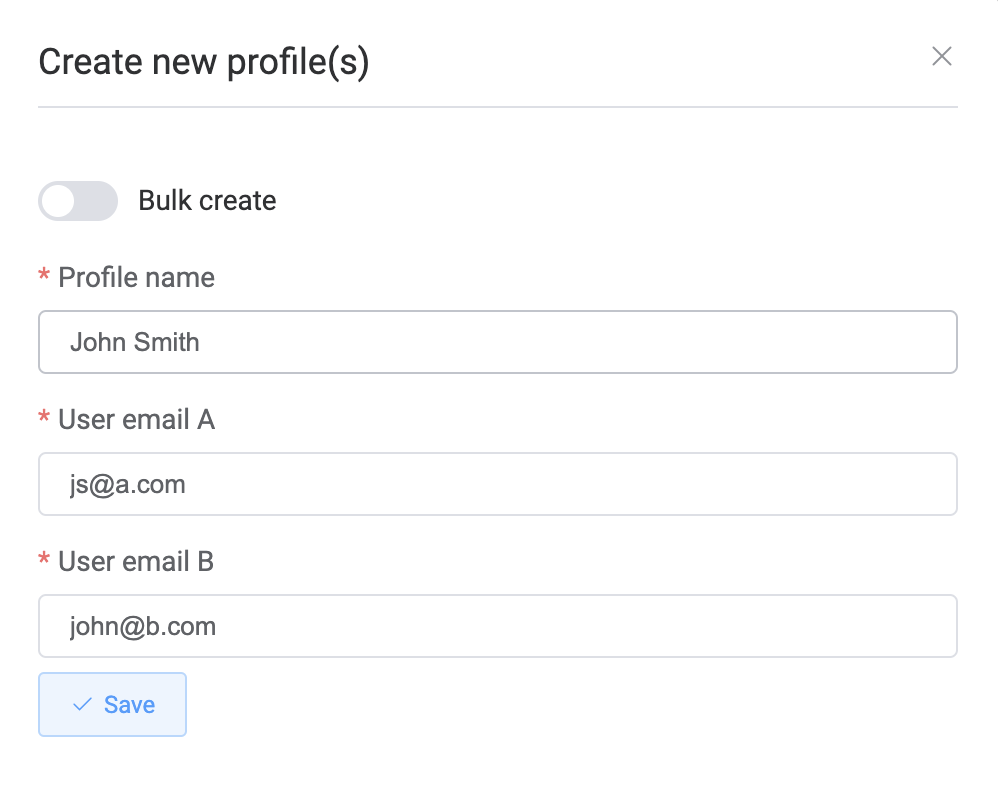 Note: you can also select the Bulk create option and add multiple users at once.
Start syncing
Once you have added a user, click the Start button to begin the calendar sync process for the corresponding user.

You'll be prompted with a choice to either sync only new meetings or to merge existing calendar meetings two-way. Select your preferred option and click Start.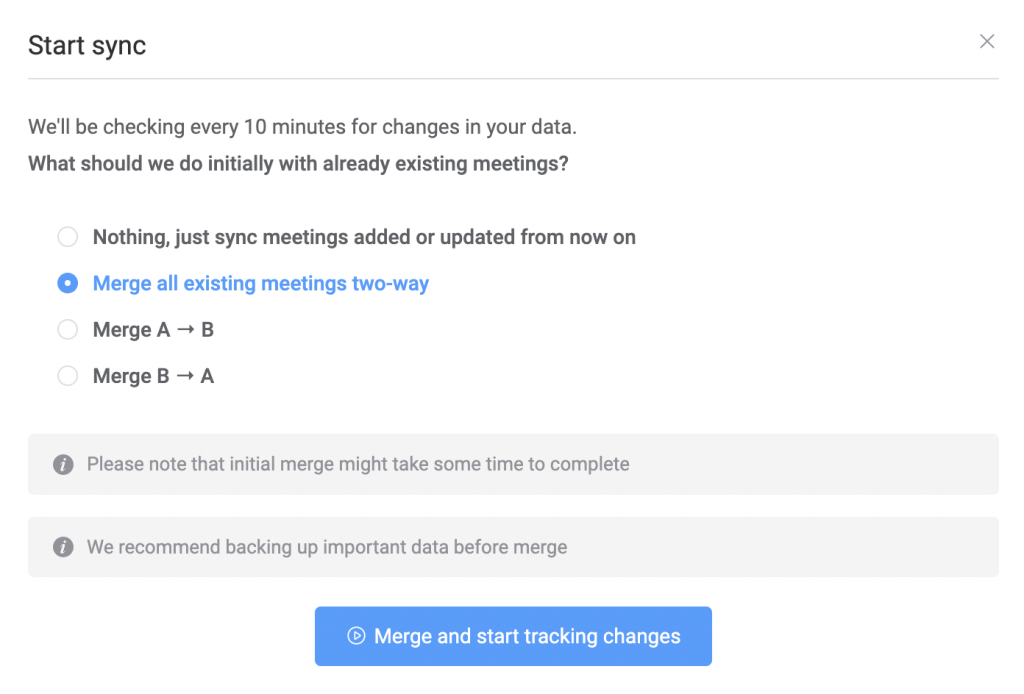 That is it! The sync will start working in the background and you will be able to check sync logs in the Sync history section of the sync page.
Note: Like adding a user, you are able to start/pause sync in bulk for multiple users at once. To do so, select the corresponding rows using checkboxes and click the Start button.
Customizations
A great feature of SyncPenguin is the ability to customize your sync.
For calendar synchronizations, we provide a few, pre-built field mappings that match popular use cases. Namely, you can choose between syncing full meeting details or blocking the time slot in the other calendar without sharing any specific meeting details. You can choose one of the field mappings, or build your own, in the Field mapping & rules section of the sync page.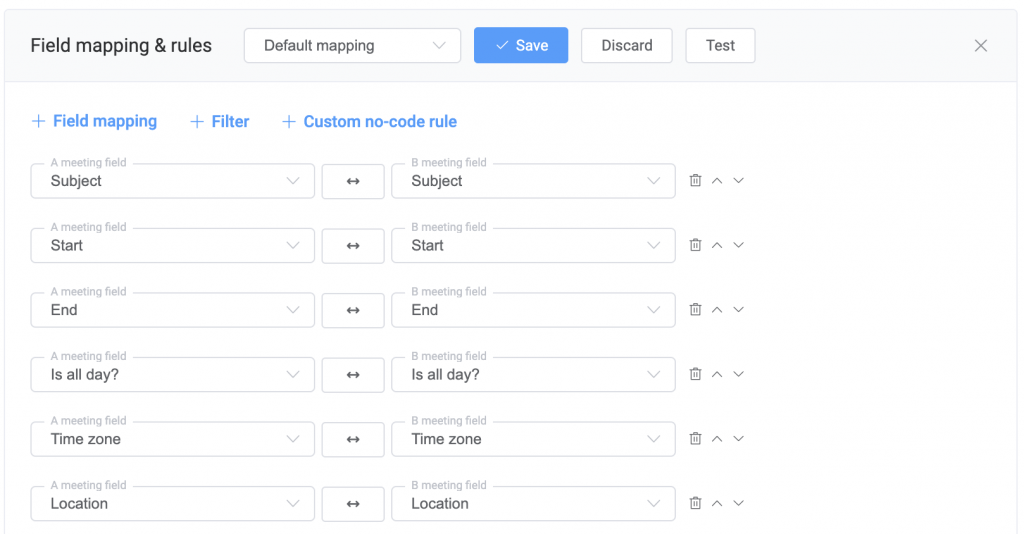 In conclusion
Thanks for reading! We hope this blog post was helpful and guided you through the process of setting up a calendar sync between two Microsoft 365 tenants. If you want to check out a simar article on how to sync from a single source to multiple destinations, read our Office 365 one-to-many contact sync blog post here.
If you have any questions or suggestions, feel free to contact us.