# How to Sync Two Office 365 or Exchange Calendars?
# Why sync two calendars?
Do you have two separate Office 365, Microsoft Teams, or Exchange accounts? Or do you want to share your calendar with someone else from or beyond your organization? Whatever is your case, you can use SyncPenguin to create and start a cloud sync between two Office 365 or Exchange on-premise calendars in less than 5 minutes. This article explains in steps how to do it. Additionally, we explain how to migrate any already existing meetings from one calendar to another.
The sync allows a variety of connection combinations and scenarios, including between different Exchange domains or Office 365 tenants, shared mailbox, public folders, etc. You can sync records between pairs of accounts, from all accounts to a single shared one, or arrange any other custom sync behavior.
Note that apart from Office 365 the service can sync with multiple Exchange EWS-based services, including:
Microsoft Office 365
Microsoft Teams
Exchange On-Premise Server
Exchange Online
Outlook on the Web
Outlook Live and @outlook.com account
Microsoft To Do
Amazon WorkMail
# 1. Sign up
The first step is to sign up and log in to the SyncPenguin Dashboard. That's the place where you create, monitor, and manage your synchronizations.
# 2. Create Office 365 or Exchange sync
The next step is to create the sync. To do this, go to the Synchronizations section of the dashboard and click the 'New sync' button (plus icon). You'll see a wizard page, where you need to follow the following three steps:
Select the first app (Office 365 or Exchange Calendar Meetings in our case)
Select the second app (also Office 365 or Exchange Calendar Meetings)
Hit the Create button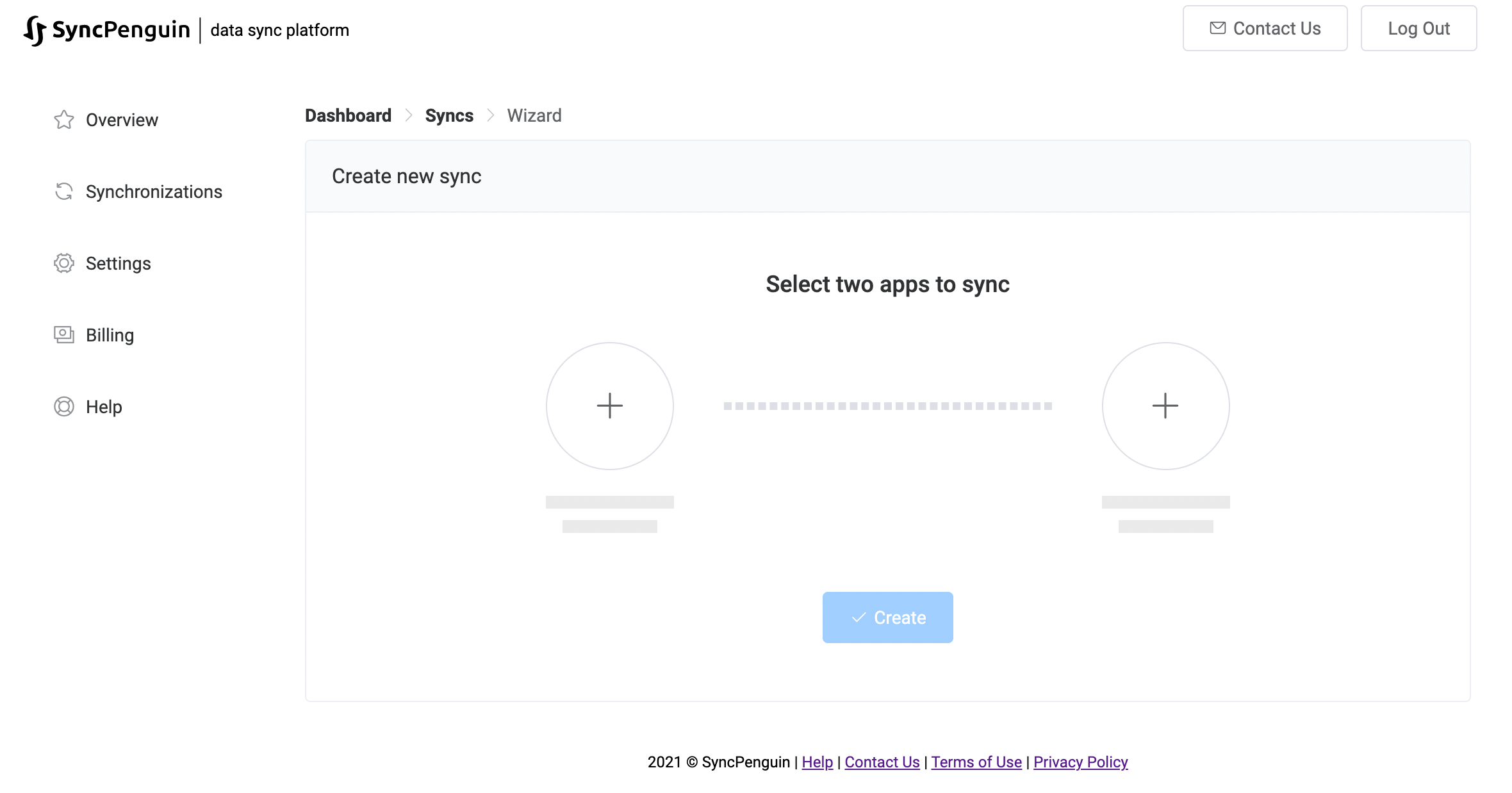 # 3. Sign in to both Office 365 or Exchange accounts
Great! You are almost there. The next step is to grant SyncPenguin access to both of your calendars in Access & Settings sections that you'll see on the sync page. To do that, expand the access panel, click the 'CONNECT' button and authenticate your Office 365 account through OAuth.
In case you want to sync to an Exchange on-premise server, you cannot sign in like that. Instead, you should enter Endpoint URL, Username (which should just be your email in most cases), and Password fields directly manually. You can always contact us if you're not sure how to connect!
Also, if you want SyncPenguin to sync recurring meetings as well, switch on the 'Include recurring meetings' field. We also recommend setting the 'Use specific time zone' field to the same (or equivalent) time zone you're using in your Outlook client.
In order to test if your connection and settings are valid, just click the 'Verify access' button.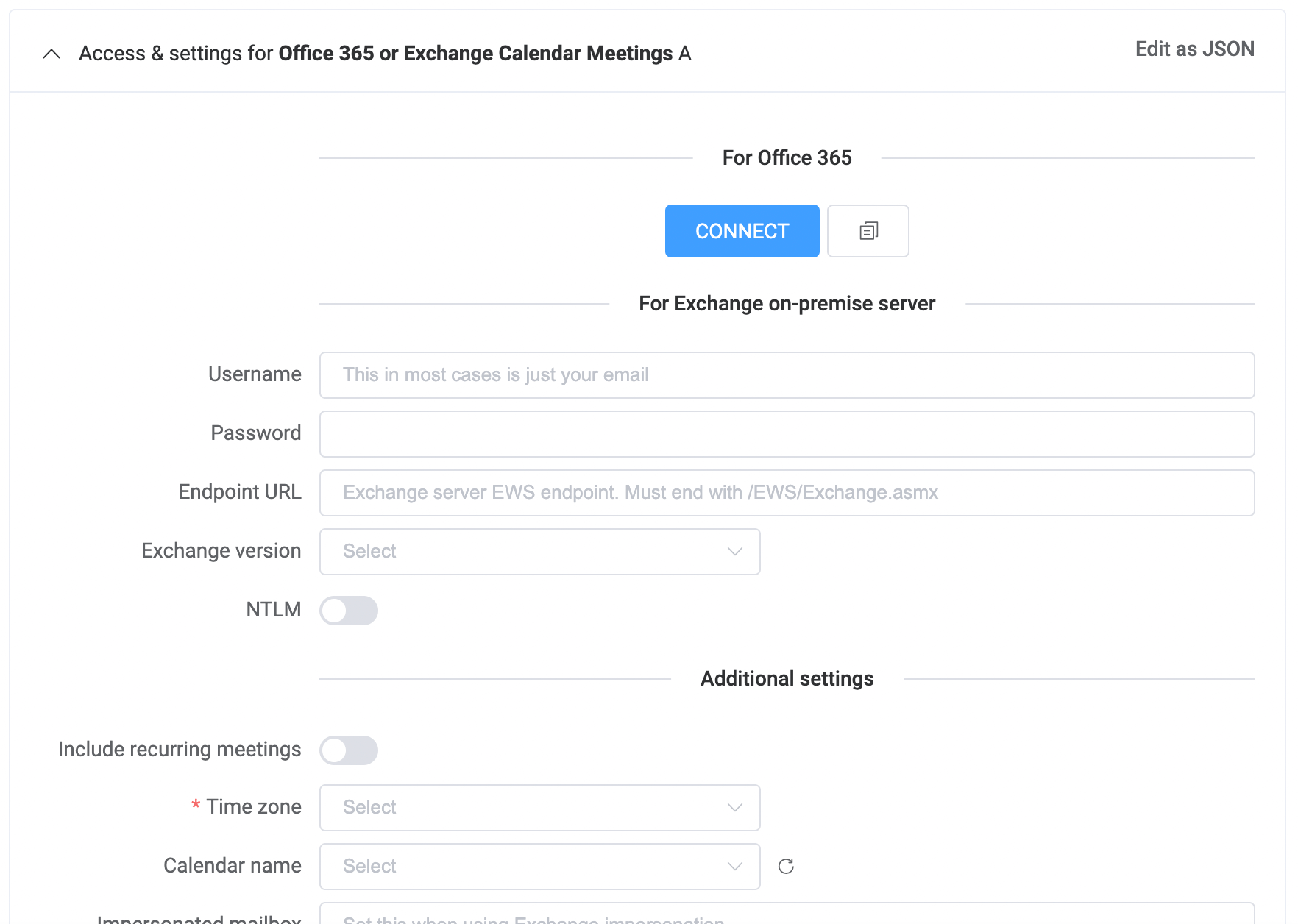 # 4. Start the sync
That's it! Well, almost. The last thing, of course, is to start the sync.
In order to do that just click the 'Start sync' button. You'll be prompted with a couple of options of what to do with meetings you currently have in your calendars. The options are the following:
Only sync new data, meaning calendar meetings that will be added or updated starting from now.
Merge all historic data two-way: merge meetings from both calendars. If you have meetings copied in both calendars, they should be merged instead of creating a duplicate.
Merge A → B: one-way merge of all meetings from the first connected calendar to the second.
Merge B → A: similar to the previous option but in the opposite direction.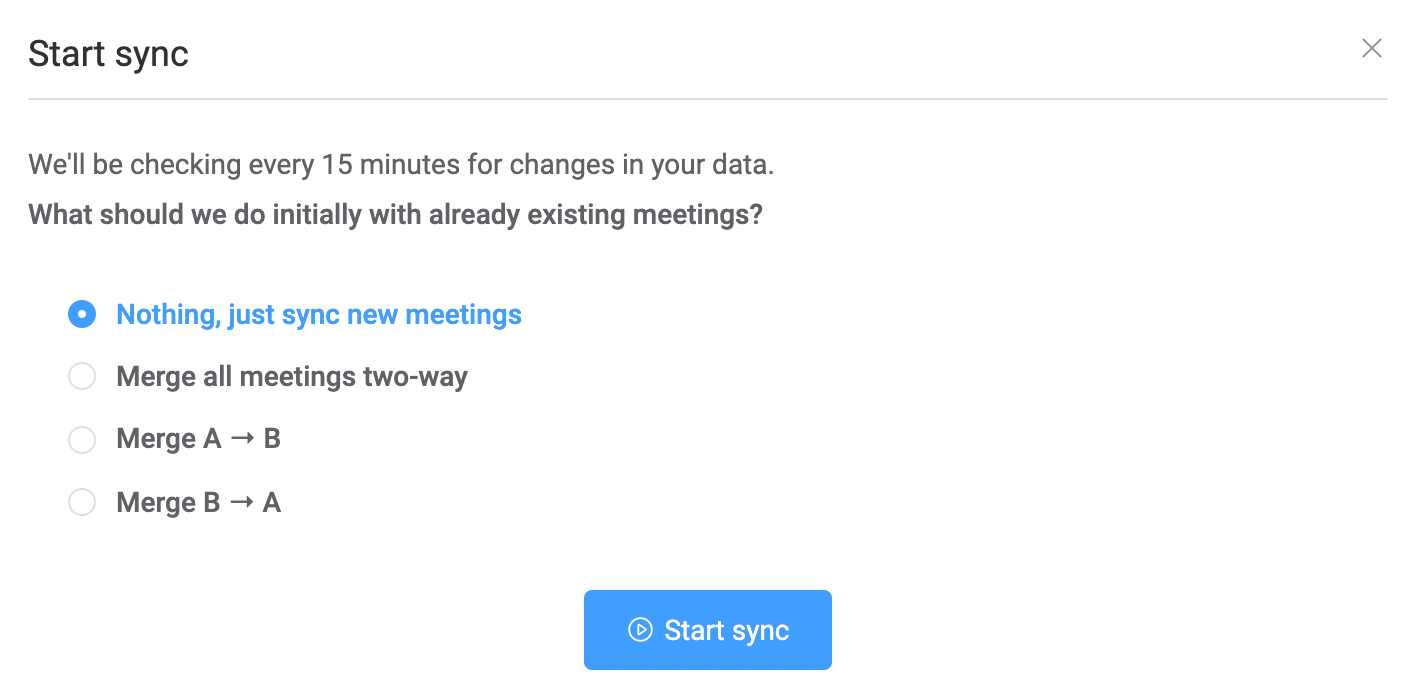 After the initial merge is done, the sync will be automatically triggered from time to time (you can configure the interval) to check for updates.
# Custom field mapping
Our Microsoft 365 calendar sync provides two pre-built field mappings:
Default mapping: syncs full meeting data, including attendees, notes, attachments, etc.
Only busy status: only syncs meeting start/end date, without subject, attendees, and other fields.
You can choose between the two provided mappings in the 'Field mapping & filters' section on the sync page.
You can also create your own custom mapping with our no-code visual programming interface. To do that, just click the 'Create new mapping' button. If you have any questions regarding customizations, feel free to contact us.
# Conclusion
So there you have it. That how simple it is. If you have any questions, visit our website or feel free to contact us directly.